Hi Guys, welcome to this week's edition of Tune in Tuesday's, where we discuss upcoming releases in the entertainment world.
Let's start by reviewing our
Old TiTs:
Old TiTs:
David Bowie –
The Next Day
; I'm sad to say that this one is laugh.
I mentioned last week that I read a quote describing it as a "rock album" but this one is far from a decent rock album.
It's boring, mundane, and not the least bit thrilling.
It may be getting decent reviews from critics, but I did not enjoy it.
I found it to be more electronic than rock and as I mentioned before, I'm not into the electronic scene.
I prefer my music to come from instruments, not devices.
I'd pass on this one, guys.
I think it might be time for Bowie to hang it up, musically speaking.
Eric Clapton –
Old Sock
; another snoozer here, folks.
If I hadn't heard the stuff so often already, there might be a few points of interest on this album, but much like Bowie, it seems Clapton just shelled this one out because he had nothing better to do.
Much like the title of the album, the music felt like an old sock:
nothing new, nothing surprising, and nothing exciting.
Oh well, I guess both artists (Bowie and Clapton) have had their days in the sun and we shouldn't expect much more out of them.
What they've given us does more than just stand the test of time.
Didn't get a chance to watch any of the movies mentioned last week, so bid your time, as I continue to do the same.
New TiTs:
Music – Love for Levon, Palma Violets, Rival Sons, and Phosphorescent
Love for Levon
is a tribute album to one of the greatest drummers of American Music History, Levon Helm.
Helm played with The Band and if you're not familiar with their music, then you should be ashamed of yourself.
One of the most iconic American groups to ever grace the stage, The Band gave us such hits as "The Weight," "Up On Cripple Creek," "The Night They Drove Old Dixie Down," "When I Paint My Masterpiece" (this one was written by Bob Dylan, but performed wonderfully by The Band – easily my favorite of theirs), "Ophelia," and "Acadian Driftwood."
If you don't have them already, go ahead and download each of these, they're fantastic!
Love for . . .
features the artists, My Morning Jacket, Jakob Dylan, John Mayer, Ray LaMontagne, Joe Walsh, Bruce Hornsby, Greg Allman, Jorma Kaukonen (of Jefferson Airplane fame), Roger Waters, Grace Potter and more.
I'm looking forward to checking this one out & I'll let you know which tracks are best (I intend on just picking out a few from iTunes – probably won't pick up the entire album).
Palma Violets are set to release their debut album,
180
, here in the states today (it was released in February in UK).
I checked this one out on Spotify and was pleasantly surprised.
With a sound sort of similar to the Japanroids, this album is a loud, fun listen and will surely be among my collection.
If you have Spotify, go ahead and check them out (if you're into that sort of thing) and let me know what you think.
I don't have any standout tracks as of yet, but then again, I thought the entire album was good.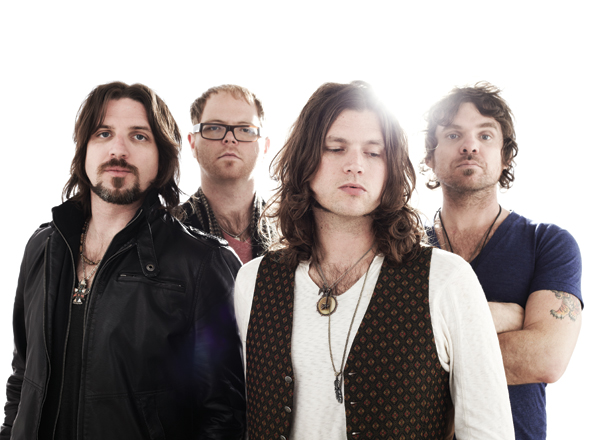 Rival Sons will be releasing their third album,
Head Down
, in the states today as well (why does the UK get releases sooner than we do?).
It was released in 2012 overseas and has garnered mostly positive reviews.
I have their sophomore album,
Pressure & Time
, and it is awesome.
Infusing the Blues with pure Rock~n~Roll is right up my alley and these guys do it justice to say the least.
I haven't had a chance to listen to their debut album,
Before The Fire
, but I'd like to (obviously) as I assume it doesn't disappoint.
Hopefully I'll find this release in a store nearby and have the chance to own it without waiting impatiently for an Amazon delivery, but who knows, the music stores in Jacksonville, FL are a joke and that sad fact brings me down every time.
Finally, we have singer/songwriter, Phosphorescent, releasing his sixth studio album,
Muchacho
.
I've only recently discovered Phosphorescent and have been in love ever since.
I discovered his fifth album, 2010s
Here's To Taking It Easy
, by listening to the track "The Mermaid Parade" – great title, great song, great lyrics, and great album.
The guy is the epitome of "laid back" and I applaud him for it.
While listening to
. . . Taking It Easy
, I couldn't help but to envision Jeffrey "The Dude" Lebowski as a musician, because this surely would be the type of music he'd make.
I know for a fact that I will not see this one in a nearby store, so I'll probably just buy it from iTunes as I did with
. . . Taking It Easy
.
I intend on becoming fully acquainted with all six albums (and his EP) in the near future and once that happens, I'll fill you in on what's better and what's best out of his body of work.
Check this guy out if you have the chance, but only if you feel like chilling out and taking it easy.
Movies – The Hobbit, This Is 40, Zero Dark Thirty, Les Miserables
The Hobbit
was a great, fun film.
More on the children's side, regarding content, etc, then
The Lord Of The Rings
, but still a thrilling adventure that kept me wanting more by the film's end (much like the first two
LOTR
movies).
I had a blast being taken back to Middle Earth and seeing some of my old friends (Frodo, Gandalf, etc.) and absolutely adored how the beginning of the movie is basically the beginning of
The Fellowship Of The Ring
– SPOILERS!!!
The movie opens with Frodo telling Bilbo that he's going to meet Gandalf on the wizard's way into The Shire, which is exactly how we're introduced to the savior of Middle Earth in
FOTR
.
I thought that move alone was worth the ticket price.
What a genius scene/opening.
Kudos, Mr. Jackson!
The rest of the movie is quite enjoyable as well, we're introduced to new characters, reintroduced to old characters, and given a big tease of a dragon.
Now call me crazy, but I'm much more amped to witness Smaug (the dragon) in action then the dragons we were given in
LOTR
, don't get me wrong, those dragons were cool, but my expectations for Smaug are much higher than what I've already seen in
LOTR
.
I'm fully looking forward to this December and next December for the respective sequels.
This Is 40
is a movie I wanted to see in the theater, but alas I never made it.
I have it on good authority though that it is a good, funny movie.
Plus, I am a big Paul Rudd fan (and I still think Megan Fox is HOT, regardless of her acting career/choices) so I'm looking forward to watching it.
It may be a more relevant film to me in ten years' time, but it may also do me some good to know what to expect (I'm 30 in case you're wondering).
I've been an Apatow fan ever since
Freaks and Geeks
, and even thought
Funny People
wasn't as bad as others claim it to be.
Not his best, by far, but a decent enough movie.
I think I'm going to have to do a movie night with this,
Life of Pi
and
Smashed
(see last week's TiTs!).
Zero Dark Thirty
and
Les Miserables
were big Oscar contenders and that might appeal to some people, but not to me.
I really have no desire to watch either of these films, but have heard nothing but good things about both.
I just tend to ignore what the masses praise, I guess.
I include these in my TiTs listing only because A) Robert, Pat, and Tiff all loved
Zero Dark Thirty
and B)
Les Miserables
is my best man's favorite novel, so here's to you guys.
Cheers!
Alright, guys, that's all for me.
Enjoy your week and FYI, there will be no TiTs for next week and I'm sorry about that, but I'll be in the midst of a pseudo-honeymoon (the real one comes this summer) and won't have the drive to post anything.
Miss me while I'm gone and check back in two weeks for the next edition of TiTs!